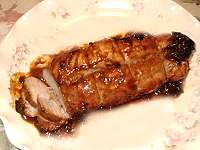 Asian Pork Tenderloin with Caramelized Onions
| | | |
| --- | --- | --- |
| Amount | Measure | Ingredient -- Preparation Method |
| -------- | ------------ | -------------------------------- |
| 1 1/2 | pounds | pork tenderloin |
| 1 | small | sweet onion -- sliced thin |
| 1 | tablespoon | olive oil |
| 1 | tablespoon | butter |
| 1 | clove | garlic -- minced |
| 1 | teaspoon | ginger root -- minced |
| 1/4 | cup | hoisin sauce |
| 2 | tablespoons | low sodium soy sauce |
| 2 | tablespoons | no salt added tomato paste |
| 2 | tablespoons | sherry |
| 1 | teaspoon | five-spice powder |
| 2 | tablespoons | brown sugar |
Melt butter with olive oil in a pan. Add onions and cook until caramelized.
Add ginger and garlic along with sherry to pan and cook for a couple of minutes while deglazing the pan.

Add hoisin, soy sauce, tomato paste, brown sugar and five spice powder. Cook until sugar melts and sauce has heated through.

Trim excess fat from meat. Place in a large Ziploc bag. Pour onion sauce over the meat. Turn to coat completely. Let marinate for at least one hour but not more than 24.
Heat oven to 450°F.

Put tenderloin together tucking in the short ends to make an even size roast. Tie together with butcher's string. Put roast on a rack in a roasting pan. Cover with onion glaze mixture. Insert meat thermometer. Cook 40 to 45 minutes or until internal temperature reaches 160°F. Don't overcook or meat will be dry. Let meat rest 10 to 15 minutes. Slice thin.

Makes 6 servings.
Per Serving: 237 Calories; 9g Fat (34.4% calories from fat); 26g Protein; 11g Carbohydrate; 1g Dietary Fiber; 65mg Cholesterol; 457mg Sodium. Exchanges: 3 1/2 Lean Meat; 1/2 Vegetable; 1 Fat; 1/2 Other Carbohydrates.