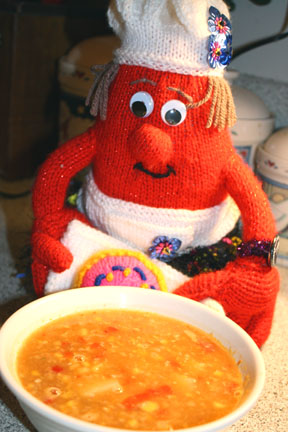 Asian Corn and Potato Soup
| | | |
| --- | --- | --- |
| Amount | Measure | Ingredient -- Preparation Method |
| -------- | ------------ | -------------------------------- |
| 14 1/2 | ounces | canned potatoes -- diced |
| 11 | ounces | no salt added white corn -- drained |
| 8 1/4 | ounces | creamed white corn -- low sodium |
| 2 | ounces | pimientos -- diced |
| 1 | small | dried onion flakes -- minced |
| 1/2 | teaspoon | garlic -- minced fine |
| 1 | teaspoon | Dijon mustard |
| 2 | cups | low sodium vegetable broth |
| 1/2 | teaspoon | paprika |
| 1 | teaspoon | Lawry's Asian Seasoning |
| 1 | tablespoon | low sodium soy sauce |
| 1/4 | cup | sherry |

Mix everything together in large saucepan or Dutch oven. Heat to boiling.

Reduce heat and simmer for 15 minutes.

Makes 6 servings.

Per Serving: 141 Calories; 1g Fat (4.1% calories from fat); 7g Protein; 27g Carbohydrate; 4g Dietary Fiber; 0mg Cholesterol; 956mg Sodium. Exchanges: 1 1/2 Grain (Starch); 1/2 Lean Meat; 0 Vegetable; 0 Fat; 0 Other Carbohydrates.