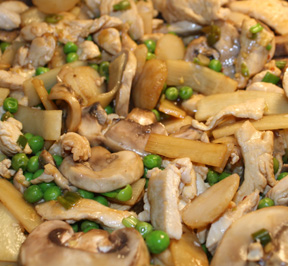 Asian Chicken - Vegetarian
| | | |
| --- | --- | --- |
| Amount | Measure | Ingredient -- Preparation Method |
| -------- | ------------ | -------------------------------- |
| 1 | pound | Morning Star Grillers Chicken -- sliced thin |
| 8 | ounces | mushroom caps -- sliced |
| 4 | whole | green onions -- sliced both white and green parts |
| 1 | cup | frozen peas -- defrosted |
| 5 | ounces | water chestnuts -- canned -- drained and sliced |
| 5 | ounces | bamboo shoots -- canned -- drained and sliced |
| 2 | cloves | garlic -- minced fine |
| 1 | tablespoon | ginger root -- minced fine |
| 1/2 | teaspoon | sesame seeds |
| 1/4 | teaspoon | crushed red pepper flakes |
| 1 | tablespoon | light brown sugar -- packed |
| 1 | tablespoon | rice wine vinegar |
| 1/4 | cup | low sodium soy sauce |
| 1 | tablespoon | plum sauce |
| 1/2 | teaspoon | sesame oil |
| 1 | tablespoon | sweet sherry |
| 1 | teaspoon | cornstarch |
| 2 | tablespoons | olive oil |

Mix soy sauce, plum sauce, rice wine vinegar, brown sugar, sesame oil, and corn starch together in small bowl. Stir until sugar and cornstarch are dissolved. Set aside
Heat wok or frying pan to medium-high. Add olive oil. Add chicken and mushrooms and cook until chicken browns and mushrooms soften. Push to sides of wok.
Add garlic, ginger, sesame seeds, and crushed red pepper. Cook quickly for 30 seconds or until fragrant and sesame seeds turn golden.
Add peas, water chestnuts, bamboo shoots, and green onions. Heat until warmed through. Push everything to the side.

Add the sauce mixture and heat until boiling. Boil for a couple of minutes or until sauce starts to thicken.

Mix the sauce with the meat and vegetable mixture and heat for another minute or until everything is hot.

Makes 6 servings.

Per Serving: 129 Calories; 6g Fat (39.4% calories from fat); 5g Protein; 15g Carbohydrate; 4g Dietary Fiber; 0mg Cholesterol; 504mg Sodium. Exchanges: 0 Grain (Starch); 0 Lean Meat; 1 1/2 Vegetable; 0 Fruit; 1 Fat; 0 Other Carbohydrates.