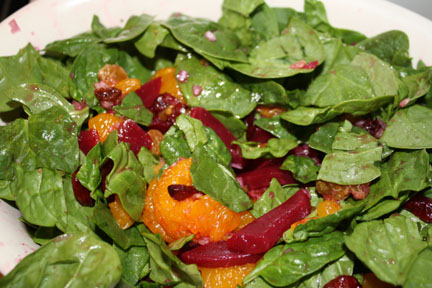 Asian Beet and Spinach Salad
| | | |
| --- | --- | --- |
| Amount | Measure | Ingredient -- Preparation Method |
| -------- | ------------ | -------------------------------- |
| 8 | ounces | baby spinach |
| 8 | ounces | mandarin oranges in juice |
| 8 | ounces | beets -- sliced |
| 1/4 | cup | dried cranberries |
| 1/4 | cup | golden raisins |
| 2 | teaspoons | candied ginger root -- minced |
| 1 | small | shallot -- minced |
| 1/4 | cup | olive oil |
| 2 | tablespoons | plum vinegar |
| 1 | tablespoon | brown sugar |

Drain oranges saving juice. Add the cranberries and raisins to juice and let sit for about 15 minutes to plump them up.

Mix oil, vinegar, and brown sugar together.

Drain cranberries and raisins. In a large bowl mix spinach, oranges, cranberries, raisins, ginger root, beets, and shallots together.

Add dressing and toss to mix.

Makes 8 servings.

Per Serving: 105 Calories; 7g Fat (56.8% calories from fat); 1g Protein; 11g Carbohydrate; 1g Dietary Fiber; 0mg Cholesterol; 797mg Sodium. Exchanges: 1/2 Vegetable; 1/2 Fruit; 1 1/2 Fat; 0 Other Carbohydrates.