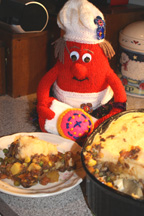 Barbecued Beef Shepherd's Pie - Vegetarian
| | | |
| --- | --- | --- |
| Amount | Measure | Ingredient -- Preparation Method |
| -------- | ------------ | -------------------------------- |
| 1 | pound | Morning Star Crumbles |
| 1 | tablespoon | vegetable oil |
| 2 1/4 | pounds | Yukon Gold potatoes -- divided and cubed |
| 1 | cup | baby carrots -- sliced 1" thick |
| 1 | cup | frozen corn |
| 1 | cup | frozen peas |
| 8 | ounces | mushrooms -- sliced |
| 1 | whole | shallot -- minced |
| 1 | clove | garlic -- minced |
| 1 | tablespoon | Dijon mustard |
| 1 | tablespoon | A-1® Steak Sauce |
| 1/2 | cup | barbecue sauce |
| 1/2 | teaspoon | seasoned salt |
| 1/4 | teaspoon | seasoned pepper |
| 1/2 | cup | 2% low-fat milk |
| 1/2 | cup | low sodium cheddar cheese -- shredded |
| 1/2 | cup | nonfat sour cream |
| 1/2 | teaspoon | salt |
| 1/4 | teaspoon | white pepper |
Heat over to 325°F.

Boil one pound of potatoes and carrots for 10 minutes.

Add oil to large frying pan and heat to medium. Add beef, shallots and garlic and cook until no pink remains in beef and vegetables are softened.

Add corn, peas, potatoes, carrots, mushrooms, seasoned salt, seasoned pepper, Dijon mustard, A-1® sauce, and barbecue sauce. Heat through.

In the meantime put the rest of the potatoes in boiling water for 18 minutes. Drain. Add milk, cheese, sour cream, salt and white pepper and whip until smooth.

Put meat and vegetable mixture in a 2 quart casserole dish. Spread mashed potatoes over top.

Cover and bake for 35 to 40 minutes or until hot and bubbling.

Makes 8 servings.

Notes: I used my recipe for Chinese Barbecue Sauce and it tasted great. Use your own sauce or your favorite store bought sauce.
Per Serving: 315 Calories; 8g Fat (21.7% calories from fat); 19g Protein; 43g Carbohydrate; 7g Dietary Fiber; 10mg Cholesterol; 698mg Sodium. Exchanges: 1/2 Grain (Starch); 1/2 Lean Meat; 1 Vegetable; 0 Non-Fat Milk; 1/2 Fat; 1/2 Other Carbohydrates.