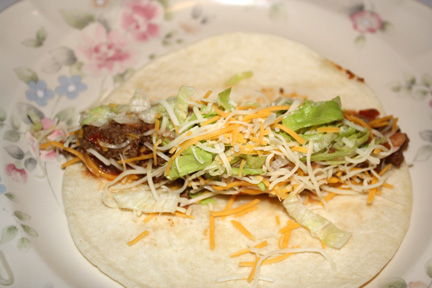 Spicy, Soft Shell Tacos - Vegetarian
| | | |
| --- | --- | --- |
| Amount | Measure | Ingredient -- Preparation Method |
| -------- | ------------ | -------------------------------- |
| 2 | tablespoons | vegetable oil |
| 12 | ounces | Morning Star Crumbles |
| 1 | medium | red bell pepper -- diced fine |
| 10 | ounces | Rotel Chunky Diced Tomatoes and Green Chilies |
| 16 | ounces | vegetarian refried beans |
| 1 | whole | shallot -- minced fine |
| 1 | clove | garlic -- minced fine |
| 2 | cups | lettuce -- iceberg -- shredded |
| 1 | cup | Four-cheese Mexican-style shredded cheese |
| 1 | tablespoon | chili powder |
| 1 | teaspoon | cumin powder |
| 1/2 | teaspoon | seasoned salt |
| 1/4 | teaspoon | seasoned pepper |
| 12 | small | flour tortillas -- fajita size |
Heat oil in large frying pan. Add crumbles, red pepper, shallot and garlic. Cook until vegetables are softened. Add chili powder, cumin, salt and pepper and mix well.

Heat beans and tomatoes in a saucepan until heated through.

Put vegetable mixture down center of tortilla. Add bean mixture, lettuce and cheese.

Makes 6 servings (2 tacos).
Per Serving: 740 Calories; 23g Fat (28.5% calories from fat); 31g Protein; 101g Carbohydrate; 13g Dietary Fiber; 15mg Cholesterol; 1634mg Sodium. Exchanges: 6 Grain (Starch); 0 Lean Meat; 1/2 Vegetable; 3 Fat; 0 Other Carbohydrates.