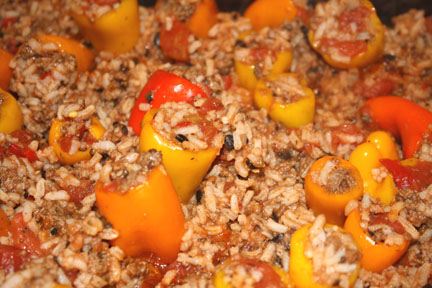 Stuffed Mini Sweet Peppers
| | | |
| --- | --- | --- |
| Amount | Measure | Ingredient -- Preparation Method |
| -------- | ------------ | -------------------------------- |
| 1 | pound | sweet peppers -- mini |
| 8 | ounces | no salt added tomato sauce |
| 1 | tablespoon | olive oil |
| 1/2 | pound | extra lean ground beef |
| 1 | small | shallot -- minced |
| 1 | clove | garlic -- minced |
| 2 | tablespoons | black olives -- diced |
| 14 1/2 | ounces | no salt added diced tomatoes with basil & garlic & oregano -- drained |
| 1 | cup | rice |
| 1 | small | roasted red pepper -- diced |
| 2 | tablespoons | grated fresh Parmesan cheese |
| 1 | teaspoon | homemade Italian seasoning |
| 1/2 | teaspoon | salt |
| 1/4 | teaspoon | ground black pepper |
| 1 | teaspoon | low sodium Worcestershire sauce |
Heat oven to 350°F.

Slice top off of peppers and remove seeds.

Pour half of sauce in baking dish and stand peppers in sauce. Slice a bit off of the bottoms if necessary so they will stand up.

Heat oil in frying pan and add ground beef and shallots. Cook until no pink remains and shallots are soft. Drain.

Add garlic and cook for 30 seconds.

Add rest of sauce and remaining ingredients and cook until warmed through.

Stuff peppers with mixture adding remaining mixture around peppers in casserole dish. Cover.

Cook for 30 to 35 minutes or until warm and bubbly.

Makes 6 servings.
Per Serving: 297 Calories; 10g Fat (30.0% calories from fat); 12g Protein; 40g Carbohydrate; 3g Dietary Fiber; 27mg Cholesterol; 284mg Sodium. Exchanges: 1 1/2 Grain (Starch); 1 Lean Meat; 1 1/2 Vegetable; 0 Fruit; 1 Fat; 0 Other Carbohydrates.