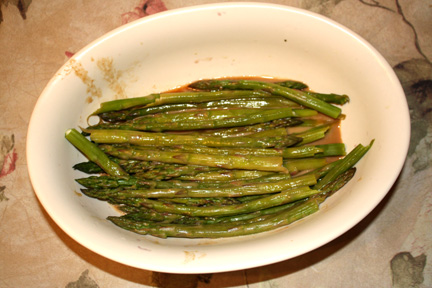 Steamed Asparagus with Butter Sauce
| | | |
| --- | --- | --- |
| Amount | Measure | Ingredient -- Preparation Method |
| -------- | ------------ | -------------------------------- |
| 1 | pound | asparagus spears |
| 3 | tablespoons | unsalted butter |
| 1 | teaspoon | low sodium soy sauce |
| 1/2 | teaspoon | balsamic vinegar |
| 1/2 | teaspoon | Dijon mustard |
| 1 | teaspoon | light brown sugar |
Break off tough ends of asparagus.

Heat an inch of water to boiling in a large saucepan. Place asparagus on steamer rack and steam for 6 to 8 minutes or until tender-crisp.

Melt butter in small saucepan. Add remaining ingredients and heat through.

Pour sauce over asparagus and serve.

Servings: 6

Per Serving: 163 Calories; 6g Fat (79.1% calories from fat); 1g Protein; 2g Carbohydrate; 1g Dietary Fiber; 16mg Cholesterol; 40mg Sodium. Exchanges: 0 Lean Meat; 1/2 Vegetable; 0 Fruit; 1 Fat; 0 Other Carbohydrates.