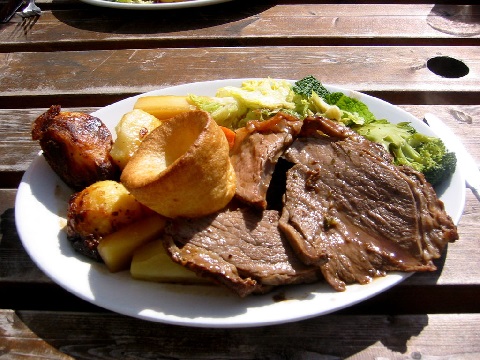 Standing Rib Roast with Port Gravy and Yorkshire Pudding
| | | |
| --- | --- | --- |
| Amount | Measure | Ingredient -- Preparation Method |
| -------- | ------------ | -------------------------------- |
| 6 | pounds | prime rib -- fat cap trimmed |
| 1 | tablespoon | olive oil |
| 2 | cloves | garlic -- minced fine |
| 1/2 | teaspoon | rosemary |
| 1 | teaspoon | salt |
| 1/4 | teaspoon | ground black pepper |
| 1/2 | teaspoon | thyme |
| | | Yorkshire Pudding |
| 2 | whole | eggs |
| 1 | cup | 2% low-fat milk |
| 1/4 | teaspoon | salt |
| 1 | cup | all-purpose flour |
| | | Port Gravy |
| 2 | cups | low sodium beef broth |
| 3/4 | cup | port wine |
| 2 | tablespoons | all-purpose flour |
| 1/4 | teaspoon | salt |
| 1/8 | teaspoon | pepper |
Trim the fat cap to 1/4 inch. Mix olive oil, garlic, rosemary, salt, pepper, and thyme together. Rub all over meat.

Heat oven to 350°F.

Place meat on rack over baking pan. Insert meat thermometer making sure not to touch a bone or the pan.

For medium-rare bake for 1 hour 45 minutes to 2 hours 15 minutes or until the thermometer reaches 135°F. Remove from oven and cover with aluminum foil. The temperature will continue to rise.

Increase oven to 450°F.

Pour off enough drippings to make 1/4 cup. Pour into a 9 inch square pan or divide between 12 muffin cups. Place pan in oven until hot.

Mix eggs, milk, salt, and flour until very smooth. Pour over dripping is pan or muffin tins. Bake 18 to 23 minutes or until golden and puffy;

Dispose of all but 2 tablespoons of the reaming beef drippings. Place pan on stove over two burners and heat to medium-high. Add flour and cook briefly to make a rue.

Pour port in and scrape up all the browned bits. Bring to a simmer.

Pour in beef stock, pepper, and salt. Bring back to a simmer and let cook 10 minutes or until thickened.

Makes 8 Servings.

Per Serving: 1176 Calories; 89g Fat (70.8% calories from fat); 64g Protein; 19g Carbohydrate; 1g Dietary Fiber; 294mg Cholesterol; 624mg Sodium. Exchanges: 1 Grain (Starch); 8 1/2 Lean Meat; 0 Vegetable; 0 Non-Fat Milk; 13 Fat.