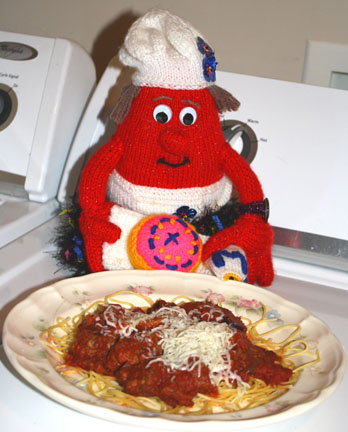 Spaghetti with Italian Sausage Meatballs
| | | |
| --- | --- | --- |
| Amount | Measure | Ingredient -- Preparation Method |
| -------- | ------------ | -------------------------------- |
| | | Meatballs |
| 1 | pound | Jimmy Dean Pork Sausage Bulk |
| 1 | whole | egg |
| 1/2 | cup | Panko |
| 1/2 | teaspoon | fennel seed -- crushed |
| 1/2 | teaspoon | Italian seasoning -- crushed |
| 1/4 | cup | Italian five Cheese |
| | | Sauce |
| 14 1/2 | ounces | tomatoes with green pepper -- celery --onion -- drained |
| 1 | whole | shallot -- minced |
| 2 | cloves | garlic -- minced |
| 2 1/4 | ounces | black olives -- sliced and drained |
| 1 | whole | roasted sweet red pepper -- diced |
| 1/2 | cup | red wine |
| 4 | ounces | mushroom caps -- sliced |
| 6 | ounces | no salt added tomato paste |
| 16 | ounces | no salt added tomato sauce |
| 1/4 | teaspoon | dried rosemary |
| 1/4 | teaspoon | dried thyme |
| 1/4 | teaspoon | dried oregano |
| 1/4 | teaspoon | dried basil |
| 1/4 | teaspoon | dried tarragon |
| 1/4 | teaspoon | dried marjoram |
| 1/2 | teaspoon | seasoned salt |
| 1/4 | teaspoon | seasoned pepper |
| 1 | tablespoon | low sodium Worcestershire sauce |
| 1 | tablespoon | balsamic vinegar |
| 1 | cup | Italian five cheese |
| 16 | ounces | spaghetti |
| 3 | tablespoons | olive oil -- divided |
Mix all the meatball ingredients together and form into 1 inch meatballs.

Add 2 tablespoons of oil to 12 inch frying pan or Dutch oven. Heat frying pan to medium-high. Add meatballs and brown on all sides. Remove from pan and drain on paper towels.

Add remaining 1 tablespoon olive oil to pan and add shallots and cook until softened.

Add garlic and cook until fragrant about 30 seconds.

Add wine and stir to get all the browned bits.

Add remaining sauce ingredients and heat until boiling. Do not add spaghetti or cheese.

Reduce heat and add meatballs back in.

Simmer for 30 minutes.

Make spaghetti according to package directions.

Serve over spaghetti. Sprinkle cheese on top.

Makes 8 servings.
Per Serving: 621 Calories; 28g Fat (41.3% calories from fat); 28g Protein; 63g Carbohydrate; 5g Dietary Fiber; 87mg Cholesterol; 894mg Sodium. Exchanges: 3 Grain (Starch); 0 Lean Meat; 2 Vegetable; 0 Fruit; 1 1/2 Fat; 0 Other Carbohydrates.