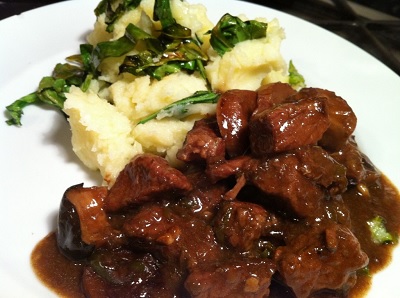 Short Ribs Braised in Guinness
| | | |
| --- | --- | --- |
| Amount | Measure | Ingredient -- Preparation Method |
| -------- | ------------ | -------------------------------- |
| 5 | pounds | beef short ribs -- trimmed of excess fat |
| 1 | medium | onion -- sliced |
| 2 | tablespoons | unsalted butter |
| 1 | clove | garlic -- minced |
| 1/2 | teaspoon | salt |
| 1/4 | teaspoon | pepper |
| 1 | tablespoon | light brown sugar |
| 1/4 | teaspoon | paprika |
| 1/2 | teaspoon | basil |
| 1/4 | teaspoon | paprika |
| 1/2 | cup | red wine |
| 1 1/2 | cups | Guinness Beer |
Heat oven to 325°F.

Mix salt, pepper, brown sugar, basil, and paprika together. Dredge the ribs in the flour mixture.

Melt butter in Dutch oven and brown ribs on all sides.

Add onions, garlic, red wine, and enough Guinness to cover.

Cover and bake for about 2 1/2 hours or until tender.

Makes 8 Servings.

Per Serving: 1167 Calories; 106g Fat (84.4% calories from fat); 41g Protein; 3g Carbohydrate; trace Dietary Fiber; 223mg Cholesterol; 288mg Sodium. Exchanges: 0 Grain (Starch); 6 Lean Meat; 0 Vegetable; 14 1/2 Fat; 0 Other Carbohydrates.