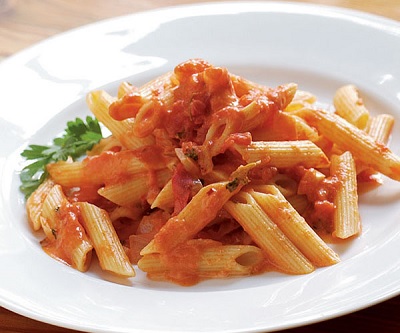 Penne with Tomato Vodka Cream Sauce
| | | |
| --- | --- | --- |
| Amount | Measure | Ingredient -- Preparation Method |
| -------- | ------------ | -------------------------------- |
| 8 | ounces | penne pasta |
| 2 | tablespoons | extra virgin olive oil |
| 1 | small | shallot -- minced |
| 2 | cloves | garlic -- minced |
| 1/8 | teaspoon | crushed red pepper flakes |
| 1/2 | teaspoon | dried oregano |
| 1/2 | teaspoon | dried thyme |
| 28 | ounces | plum tomatoes -- diced -- canned and drained |
| 1/2 | teaspoon | kosher salt |
| 1/4 | cup | vodka |
| 1/2 | cup | heavy cream |
| 1/4 | cup | parmesan cheese -- grated |
Cook pasta until al dente.

In a large skillet heat oil over medium. Add shallot and cook until softened.

Add garlic and cook for 30 seconds.

Add tomatoes, red pepper flakes, salt, oregano, and thyme and bring to a boil.

Off heat add vodka and return to heat and cook 8 to 10 minutes.

Add cream and heat through. Mix the pasta in and heat through.

Serve with grated cheese over the top.

Makes 6 servings.
Per Serving: 314 Calories; 14g Fat (42.0% calories from fat); 8g Protein; 35g Carbohydrate; 2g Dietary Fiber; 30mg Cholesterol; 240mg Sodium. Exchanges: 2 Grain (Starch); 0 Lean Meat; 1 Vegetable; 0 Non-Fat Milk; 2 1/2 Fat.