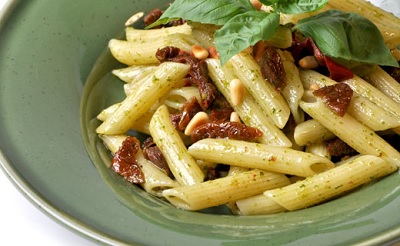 Pasta with Sun Dried Tomatoes and Roasted Red Peppers
| | | |
| --- | --- | --- |
| Amount | Measure | Ingredient -- Preparation Method |
| -------- | ------------ | -------------------------------- |
| 8 | ounces | penne pasta -- cooked and drained |
| 4 | ounces | sun-dried tomatoes -- drained and diced |
| 1 | small | shallot -- minced |
| 2 | large | cloves garlic -- minced |
| 1 | tablespoon | olive oil |
| 1/4 | cup | basil leaves -- chopped fine |
| 1/8 | teaspoon | crushed red pepper flakes |
| 1/4 | cup | Parmesan cheese |
| 1 | whole | roasted red pepper |
Heat olive oil in large skillet over medium. Cook shallot until softened.

Add garlic and cook for 30 seconds.

Add tomatoes and red peppers and cook for 2 minutes.

Add basil and pasta and heat through.

Off heat add Parmesan and toss.

Notes: Don't use the sun dried tomatoes in oil. They are extra salty and the old oil taste can not be rinsed away. Because sun dried tomatoes are so high in sodium I changed my recipe to add half tomatoes and half roasted red peppers.

Makes 4 servings.
Per Serving: 344 Calories; 7g Fat (16.8% calories from fat); 14g Protein; 60g Carbohydrate; 5g Dietary Fiber; 4mg Cholesterol; 692mg Sodium. Exchanges: 4 Grain (Starch); 1/2 Lean Meat; 1/2 Vegetable; 1 Fat.