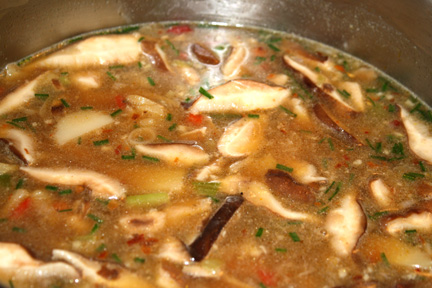 Not for Wimps Hot and Sour Soup - Vegetarian
| | | |
| --- | --- | --- |
| Amount | Measure | Ingredient -- Preparation Method |
| -------- | ------------ | -------------------------------- |
| 1 | small | shallot -- finely minced |
| 5 | ounces | shiitake mushrooms -- sliced thin |
| 2 | cloves | garlic -- minced fine |
| 1 | teaspoon | ginger root -- minced fine |
| 1/4 | cup | green onions -- sliced thin |
| 1 | pound | firm tofu -- sliced thin |
| 8 | ounces | water chestnuts -- canned -- sliced thin |
| 8 | ounces | bamboo shoots -- canned -- sliced thin |
| 2 | ounces | pimientos -- minced |
| 2 | tablespoons | chives -- minced |
| 40 | ounces | low sodium vegetable broth |
| 1/4 | teaspoon | crushed red pepper flakes |
| 1 | teaspoon | Tiger Sauce or other hot sauce |
| 2 | tablespoons | low sodium soy sauce -- divided |
| 1 | tablespoon | A-1® Steak Sauce |
| 2 | teaspoons | sesame oil |
| 2 | tablespoons | rice wine vinegar |
| 1/4 | teaspoon | white pepper |
| 1 | tablespoon | chili garlic sauce |
| 1 | tablespoon | sherry |
| 1 | tablespoon | cornstarch |
Mix 1 tablespoon soy sauce, sherry and cornstarch in a small bowl. Add the tofu and let marinate for at least 15 minutes.

Heat oil in large saucepan or Dutch oven. Add shallots and green onions. Cook until softened.

Add mushrooms and tofu. Cook until mushrooms and tofu start to brown.

Add garlic and ginger and cook until fragrant about 30 seconds.

Add remaining ingredients and bring to a boil.

Reduce heat and simmer for 30 minutes.

Makes 8 servings.
Per Serving: 171 Calories; 4g Fat (19.2% calories from fat); 14g Protein; 24g Carbohydrate; 5g Dietary Fiber; 0mg Cholesterol; 540mg Sodium. Exchanges: 1 Grain (Starch); 2 Lean Meat; 1 Vegetable; 1/2 Fat; 0 Other Carbohydrates.