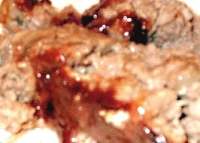 Meatloaf with Oriental Sauce
| | | |
| --- | --- | --- |
| Amount | Measure | Ingredient -- Preparation Method |
| -------- | ----------- | -------------------------------- |
| 1 1/2 | pounds | ground beef -- extra lean |
| 1 | cup | Burgundy wine |
| 1/4 | teaspoon | dried sage |
| 1/4 | teaspoon | dried thyme |
| 1/2 | teaspoon | salt |
| 1/2 | teaspoon | dry mustard |
| 1/4 | teaspoon | pepper |
| 1 | tablespoon | Worcestershire sauce |
| 3 | slices | bread -- torn into bite size |
| 1 | whole | egg |
| 2 | cloves | garlic -- minced |
| 1 | small | onion -- chopped |
| 4 | ounces | mushrooms -- canned -- drained & sliced |
| 2 | tablespoons | brown sugar -- packed |
| 1/3 | cup | low sodium catsup |
| 1/2 | teaspoon | ginger |
| 1/2 | teaspoon | garlic salt |
| 2 | tablespoons | soy sauce -- low sodium |
| 1 | teaspoon | dry mustard |
Heat oven to 350°F.
Mix beef, wine, sage, thyme, salt, mustard, pepper, Worcestershire, bread, egg. garlic, onion and mushrooms. Spread mixture in loaf pan 8-1/2 x 4-1/2 x 2-1/2 or 9x5x2 inches.
n a small bowl mix brown sugar, catsup, ginger, garlic salt, soy sauce and 1 teaspoon mustard. Spoon sauce on top of meatloaf.
Bake 1 to 1-1/4 hours. Drain grease or remove from pan.

Makes 6 servings.
Per Serving: 289 Calories; 16g Fat (52.6% calories from fat); 18g Protein; 13g Carbohydrate; 1g Dietary Fiber; 82mg Cholesterol; 598mg Sodium. Exchanges: 1/2 Grain (Starch); 2 1/2 Lean Meat; 1/2 Vegetable; 1 1/2 Fat; 1/2 Other Carbohydrates.