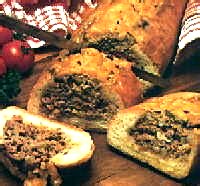 Meatloaf in Sourdough Bread
| | | |
| --- | --- | --- |
| Amount | Measure | Ingredient -- Preparation Method |
| -------- | ------------ | -------------------------------- |
| 1 | pound | extra lean ground beef |
| 1/4 | pound | mushroom caps -- sliced |
| 1 | whole | egg |
| 2 | tablespoons | no salt added tomato paste |
| 1 | small | onion -- diced |
| 1 | clove | garlic -- minced |
| 1 | teaspoon | Italian seasoning |
| 1/2 | teaspoon | seasoned salt |
| 1/4 | teaspoon | seasoned pepper |
| 1 | teaspoon | low sodium Worcestershire sauce |
| 16 | ounces | sourdough bread |
| 1 | cup | cheddar cheese -- low sodium -- shredded |
| 1 | tablespoon | unsalted butter -- melted |
| 1/2 | cup | red wine |
Heat oven to 375°F.

Cut a thin slice from top of bread. Scoop out most of the bread and tear to make 1 1/2 cup bread crumbs.

Mix together the beef, mushrooms, onion, garlic, tomato paste, Italian seasoning, salt, pepper, Worcestershire, bread crumbs, 1/2 cup cheese, and wine.

Spoon mix into bread shell. Brush with melted butter.

Wrap in foil and bake for 1 to 1 1/4 hours.

Fold back foil and sprinkle with remaining cheese and return loaf to oven. Bake for 2 or 3 minutes or until cheese melts.

Makes 8 Servings.

Per Serving: 391 Calories; 18g Fat (43.3% calories from fat); 21g Protein; 33g Carbohydrate; 2g Dietary Fiber; 84mg Cholesterol; 497mg Sodium. Exchanges: 2 Grain (Starch); 2 Lean Meat; 1/2 Vegetable; 2 Fat; 0 Other Carbohydrates.