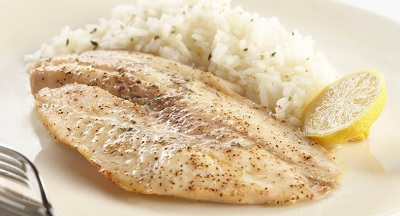 Lemon and Garlic Broiled Fish
| | | |
| --- | --- | --- |
| Amount | Measure | Ingredient -- Preparation Method |
| -------- | ------------ | -------------------------------- |
| 16 | ounces | halibut fillets or other white fish |
| 3 | tablespoons | fresh lemon juice |
| 1 | tablespoon | Dijon mustard |
| 1 | tablespoon | unsalted butter -- melted |
| 1/4 | teaspoon | lemon pepper |
| 1/2 | teaspoon | dried basil |
| | | vegetable cooking spray |
Spray a rack that sits over a broiler pan.

Mix lemon juice, Dijon, butter, lemon pepper, and basil. Brush half the mixture over the fish. Broil for 5 minutes.

Brush remaining lemon mixture over the fish and broil for five more minutes or until the fish is cooked through and flakes.

Makes 4 servings.
Per Serving: 157 Calories; 6g Fat (33.4% calories from fat); 24g Protein; 1g Carbohydrate; trace Dietary Fiber; 44mg Cholesterol; 130mg Sodium. Exchanges: 0 Grain (Starch); 3 1/2 Lean Meat; 0 Fruit; 1/2 Fat; 0 Other Carbohydrates.