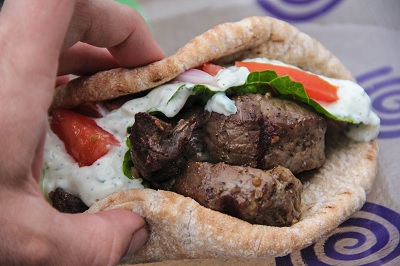 Lamb Gyro with Tzatziki Sauce
| | | |
| --- | --- | --- |
| Amount | Measure | Ingredient -- Preparation Method |
| -------- | ------------ | -------------------------------- |
| 2 | pounds | ground lamb |
| 1 | clove | garlic -- minced |
| 1 | medium | onions -- minced |
| 2 | teaspoons | kosher salt |
| 1/2 | teaspoon | dried oregano |
| 1/4 | teaspoon | black pepper |
| 4 | slices | bacon -- lower sodium -- diced |
| | | Tzatziki Sauce |
| 1 | cup | plain yogurt |
| 1/2 | cup | cucumber -- shredded |
| 1 | tablespoon | olive oil |
| 2 | teaspoons | white wine vinegar |
| 1 | teaspoon | fresh dill -- minced |
| 2 | teaspoons | fresh lemon juice |
In a bowl lightly mix lamb, salt, and pepper. Refrigerate for at least 2 hours.

Heat oven to 300°F. Line a rack over a baking sheet with aluminum foil. Spray with vegetable spray. Poke holes in foil to allow grease to drip through.

In a food processor put lamb, bacon, garlic, and onion. Process into a fine paste scraping down sides.

Place the meat mixture on rack and form into a 8x5x1 1/2 inch loaf. Bake for 30 minutes.

Heat oven broiler.

Let meat rest for 15 minutes then slice into 5x1 /12x1/4 inch slices. Put on a aluminum lined baking sheet and broil about 2 minutes or until crispy on edges.

To make sauce squeeze out as much moisture from cucumber as possible. Mix with remaining ingredients.

Serving Ideas : Serve on pita bread with sliced Roma tomatoes, onions, and sauce.

Makes 8 servings.
Per Serving: 379 Calories; 31g Fat (74.0% calories from fat); 21g Protein; 3g Carbohydrate; trace Dietary Fiber; 89mg Cholesterol; 594mg Sodium. Exchanges: 0 Grain (Starch); 2 1/2 Lean Meat; 1/2 Vegetable; 0 Fruit; 0 Non-Fat Milk; 4 Fat; 0 Other Carbohydrates.