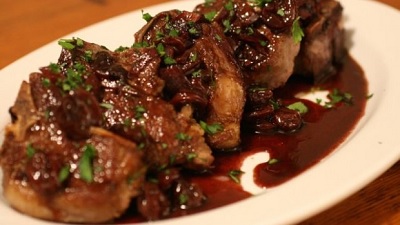 Lamb Chops with Red Wine Sauce
| | | |
| --- | --- | --- |
| Amount | Measure | Ingredient -- Preparation Method |
| -------- | ------------ | -------------------------------- |
| 2 | pounds | lamb chops -- lean -- 3/4 inch thick |
| 1 | tablespoon | unsalted butter |
| 1/2 | teaspoon | salt |
| 1/4 | teaspoon | pepper |
| 1/4 | teaspoon | dried rosemary |
| | | Red Wine Sauce |
| 1/2 | cup | red wine |
| 2 | tablespoons | balsamic vinegar |
| 1 | medium | shallot -- minced |
| 1 | tablespoon | low sodium soy sauce |
| 1 | tablespoon | water |
| 1 | teaspoon | cornstarch |
Mix salt, pepper, and rosemary together. Rub all over the chops.

Melt butter in large skillet over medium-high heat.

Cook chops for 3 1/2 minutes per side for medium rare or 4 to 5 minutes for medium and well done.

Remove chops from skillet and place on plate. Tent with aluminum foil.

Add shallot to skillet and cook until starting to brown. Add vinegar and scrape up browned bits from lamb.

Add soy sauce and red wine. Heat to boiling.

Mix water and cornstarch to make a slurry. Add to wine and cook stirring until sauce thickens.

Makes 4 servings.
Per Serving: 312 Calories; 14g Fat (43.0% calories from fat); 38g Protein; 3g Carbohydrate; trace Dietary Fiber; 126mg Cholesterol; 559mg Sodium. Exchanges: 0 Grain Starch); 5 1/2 Lean Meat; 0 Vegetable; 0 Fruit; 1/2 Fat.