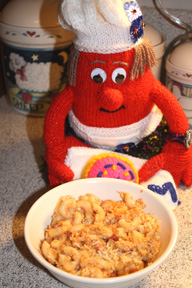 Italian Tomato and Garlic Pasta
Amount

Measure

Ingredient -- Preparation Method

--------

------------

--------------------------------

4

quarts

boiling water

8

ounces

elbow macaroni

14 1/2

ounces

diced tomatoes -- canned -- fire roasted

1

clove

garlic -- minced

1

whole

shallot -- minced

2

tablespoons

butter -- divided

1

tablespoon

low sodium Worcestershire sauce

1

tablespoon

Dijon mustard

1

teaspoon

Italian seasoning

1

teaspoon

seasoned salt

1/4

teaspoon

seasoned pepper

1

teaspoon

garlic powder

1

cup

low sodium cheddar cheese

1

cup

Parmesan cheese

1

cup

fat-free evaporated milk

1

cup

Panko -- bread crumbs
Heat over to 350°F.

Cook macaroni in boiling water 8 minutes and drain.

Heat 1 tablespoon butter in a saucepan. Add garlic and shallots and cook until tender.

Drain tomatoes and add to saucepan. Add Worcestershire, dijon, salt, pepper, and Italian seasoning. Heat to boiling.

Add evaporated milk and mix thoroughly.

Add cheddar cheese a little at a time until melted. Mix thoroughly.

Put pasta in 2 quart casserole dish. Add tomato sauce and mix thoroughly.

Heat remaining tablespoon of butter in fry pan until melted. Add panko and garlic powder and cook until toasted. Take off of heat and add Parmesan and mix thoroughly. Top the pasta mix.

Bake at 350°F for 30 minutes.
Makes 8 servings.
Per Serving: 303 Calories; 12g Fat (34.3% calories from fat); 15g Protein; 34g Carbohydrate; 2g Dietary Fiber; 31mg Cholesterol; 500mg Sodium. Exchanges: 2 Grain (Starch); 1 Lean Meat; 1/2 Vegetable; 1/2 Non-Fat Milk; 1 1/2 Fat; 0 Other Carbohydrates.