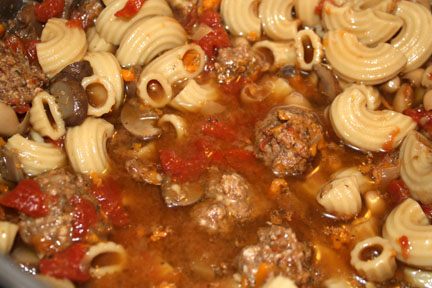 Italian Sausage Meatballs Soup
| | | |
| --- | --- | --- |
| Amount | Measure | Ingredient -- Preparation Method |
| -------- | ------------ | -------------------------------- |
| 1 | pound | Italian sausage |
| 1/4 | cup | panko |
| 1/2 | cup | red wine -- divided |
| 1 | tablespoon | no salt added tomato paste |
| 1 | teaspoon | low sodium soy sauce |
| 2 | tablespoons | vegetable oil |
| 1 | small | sweet onion -- diced |
| 1 | clove | garlic -- minced |
| 14 1/2 | ounces | no salt added diced tomatoes with basil & garlic & oregano -- drained |
| 8 | ounces | crimini mushrooms -- sliced |
| 15 1/2 | ounces | cannellini beans -- cooked and drained |
| 1/2 | teaspoon | seasoned salt |
| 1/4 | teaspoon | seasoned pepper |
| 1 | tablespoon | low sodium Worcestershire sauce |
| 64 | ounces | low sodium beef broth |
| 8 | ounces | macaroni |
Soak panko in 1/4 cup red wine until softened. Add sausage, tomato paste, and soy sauce. Shape into balls.

Heat large Dutch oven to medium and add vegetable oil. Fry the meatballs until browned all over. Remove from pan.

Add onion to Dutch oven and cook until starting to soften and turn brown on edges.

Add garlic and cook for 30 seconds.

Add remaining wine and scrape up all the fond in the pan.

Return meatballs to pan along with mushrooms, tomatoes, and beans.

Add salt, pepper, and Worcestershire sauce and mix.

Add broth and bring to a boil. Reduce heat and let cook for 30 minutes.

Add macaroni and cook for another 10 to 12 minutes.

Makes 10 servings.
Per Serving: 492 Calories; 18g Fat (32.8% calories from fat); 29g Protein; 53g Carbohydrate; 8g Dietary Fiber; 35mg Cholesterol; 484mg Sodium. Exchanges: 3 Grain(Starch); 2 1/2 Lean Meat; 1/2 Vegetable; 3 Fat; 0 Other Carbohydrates.