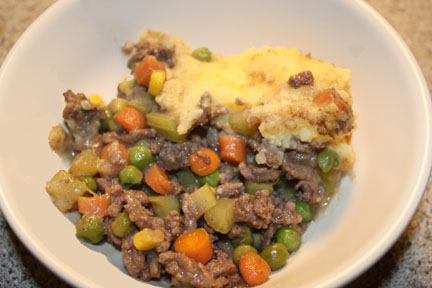 Irish American Shepherd's Pie - Vegetarian
| | | |
| --- | --- | --- |
| Amount | Measure | Ingredient -- Preparation Method |
| -------- | ------------ | -------------------------------- |
| 1 1/4 | pounds | vegetarian burger mix -- Morning Star Crumbles |
| 1 | tablespoon | olive oil |
| 1 | cup | baby carrots -- diced |
| 8 | ounces | mushrooms -- sliced |
| 1 | cup | celery -- diced |
| 1 | cup | frozen green peas |
| 1 | cup | frozen corn |
| 1 | small | onion -- diced |
| 2 | cloves | garlic -- minced |
| 1 | tablespoon | Dijon mustard |
| 1 | tablespoon | A-1® Steak Sauce |
| 1/4 | cup | red wine or beef broth |
| 1/2 | teaspoon | seasoned salt |
| 1/4 | teaspoon | seasoned pepper |
| 1/2 | teaspoon | allspice |
| 1 | tablespoon | cornstarch |
| 1 1/2 | pounds | potatoes -- peeled & cubed |
| 1/2 | cup | low-fat sour cream |
| 1 | cup | low sodium cheddar cheese -- shredded |
| 1/2 | teaspoon | salt |
| 1/4 | teaspoon | white pepper |
Add potatoes to boiling water. Cook 15 minutes or until tender. Drain.
Mash potatoes with sour cream, cheddar cheese, salt and white pepper.
Add olive oil to large frying pan and heat. Cook crumbles, onions, and mushrooms until crumbles are cooked through and vegetables are softened.
Add garlic, carrots, peas, celery and corn. Cook until vegetables are softened.
Mix cornstarch and wine. Add to crumbles and vegetables. Add Dijon mustard, A-1 Sauce, seasoned salt, seasoned pepper and allspice. Mix well and cooked until gravy has thickened.
Put crumbles and vegetable mixture in a 2 quart casserole. Cover with mashed potatoes.
Bake uncovered at 325°F for 35 to 40 minutes. Makes 8 servings.
Per Serving: 477 Calories; 12g Fat (22.1% calories from fat); 21g Protein; 75g Carbohydrate; 11g Dietary Fiber; 17mg Cholesterol; 825mg Sodium. Exchanges: 4 1/2 Grain (Starch); 1 Lean Meat; 1 Vegetable; 2 Fat; 0 Other Carbohydrates.