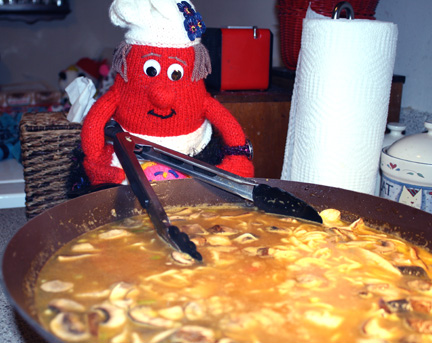 In Your Dreams Asian Soup
| | | |
| --- | --- | --- |
| Amount | Measure | Ingredient -- Preparation Method |
| -------- | ------------ | -------------------------------- |
| 64 | ounces | Swanson's Thai Ginger Broth |
| 5 | ounces | chow mein noodles |
| 1/4 | cup | low-sodium teriyaki sauce |
| 1 1/2 | pounds | pork tenderloin -- cut into 1-inch cubes |
| 4 | ounces | mushroom caps -- variety -- sliced |
| 4 | whole | green onions -- sliced |
| 1 | tablespoon | cornstarch |
| 1 | tablespoon | ginger root -- minced |
| 1 | clove | garlic -- minced |
| 1 | whole | roasted red pepper -- diced |
| 1/2 | teaspoon | seasoned salt |
| 1/4 | teaspoon | seasoned pepper |
| 2 | tablespoons | vegetable oil |
Make noodles according to package instructions. Rinse in cold water and set aside.

Mix the teriyaki sauce and cornstarch in a bowl until smooth. Add cubed pork and mix thoroughly and let set for 15 minutes.

Add oil to wok or large skillet and heat to medium-high.

Add garlic and ginger and cook for 30 seconds.

Add pork in batches if necessary and brown on all sides. Remove from wok.

Add mushrooms and remaining teriyaki sauce marinade and cook for 2 minutes.

Return pork to wok and add red pepper, green onions, salt, and pepper. Cook for 1 minute.

Add broth and heat to boiling. Reduce heat to low and cover and let simmer for 15 minutes or until pork is cooked through.

Add noodles to soup and cook for 5 minutes or until heated through.

Notes: Look for mushrooms in a pack that's says "Stir Fry" or one that has a different variety of mushrooms in them.

Makes 8 servings.
Per Serving: 530 Calories; 12g Fat (39.4% calories from fat); 21g Protein; 20g Carbohydrate; 1g Dietary Fiber; 55mg Cholesterol; 1074mg Sodium. Exchanges: 1 Grain (Starch); 2 1/2 Lean Meat; 1/2 Vegetable; 2 Fat; 0 Other Carbohydrates.