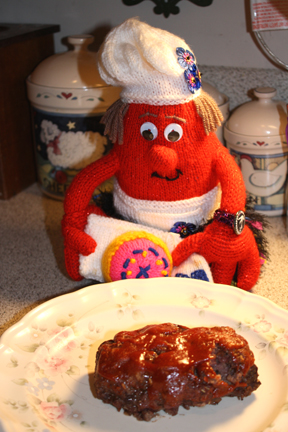 Individual Italian Meatloaf
| | | |
| --- | --- | --- |
| Amount | Measure | Ingredient -- Preparation Method |
| -------- | ------------ | -------------------------------- |
| 1/2 | pound | extra lean ground beef |
| 1/4 | cup | red wine |
| 1 | whole | King's Hawaiian Sweet Rolls |
| 1 | tablespoon | onion -- minced |
| 1 | clove | garlic -- minced |
| 1 | teaspoon | low sodium Worcestershire sauce |
| 1/4 | teaspoon | seasoned salt |
| 1/8 | teaspoon | seasoned pepper |
| 1/2 | teaspoon | Italian seasoning |
| 1/8 | teaspoon | Dijon mustard |
| 2 | teaspoons | light brown sugar |
| 1/8 | cup | low sodium catsup |
| 1/8 | teaspoon | ground ginger |
| 1/8 | teaspoon | dry mustard |
| 1/8 | teaspoon | garlic salt |
Heat oven to 350°F.

Tear roll into pieces and soak in wine. In small bowl mix catsup, brown sugar, ginger, dry mustard and garlic salt. Set aside.

Mix ground beef, wine, roll, onion, garlic, Worcestershire sauce, salt, pepper, Italian seasoning, and Dijon together.

Form mixture into an oval loaf and place on rack over pan.

Bake for 1 hour or until done.

Makes 1 serving.
Per Serving: 737 Calories; 42g Fat (53.4% calories from fat); 46g Protein; 35g Carbohydrate; 2g Dietary Fiber; 172mg Cholesterol; 909mg Sodium. Exchanges: 0 Grain (Starch); 6 Lean Meat; 1/2 Vegetable; 4 Fat; 1 Other Carbohydrates.