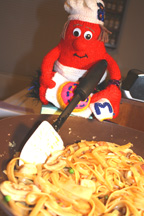 Hot & Spicy Chinese Noodles with Ham
| | | |
| --- | --- | --- |
| Amount | Measure | Ingredient -- Preparation Method |
| -------- | ------------ | -------------------------------- |
| 2 1/2 | quarts | boiling water |
| 8 | ounces | noodles |
| 1 | teaspoon | salt |
| 1 | whole | shallot -- minced fine |
| 8 | ounces | mushroom caps -- sliced |
| 1 | cup | frozen peas -- thawed |
| 1 | clove | garlic -- minced fine |
| 1 | tablespoon | ginger root -- minced fine |
| 8 | ounces | water chestnuts -- sliced |
| 8 | ounces | bamboo shoots -- sliced |
| 4 | ounces | ham slices -- fat free -- diced small |
| 2 | tablespoons | low sodium soy sauce |
| 2 | tablespoons | sweet sherry |
| 2 | tablespoons | Tiger Sauce -- or other chili sauce |
| 1/2 | teaspoon | sesame oil |
| 1 | tablespoon | plum vinegar |
| 1 | tablespoon | dark brown sugar |
| 1 | tablespoon | vegetable oil |
| 1 | tablespoon | water |
| 1 | teaspoon | cornstarch |
Make noodles in boiling water with salt. Cook according to package directions. Drain.

Add oil to wok or large frying pan and heat to medium high.

Add ginger, garlic and shallots and cook for 30 seconds.

Add peas, mushrooms, water chestnuts, and bamboo shoots. Cook for 2 minutes.

Mix soy sauce, sesame oil, vinegar, chili sauce, and brown sugar. Stir until sugar is dissolved.

Move vegetables to side of wok and add sauce mixture. Heat to boiling.

Mix cornstarch with water and stir until dissolved. Add to sauce in wok. Stir to combine and boil until sauce is thickened.

Add noodles to wok. Stir noodles and vegetables until coated with sauce.
Makes 8 servings.
Per Serving: 218 Calories; 3g Fat (14.5% calories from fat); 9g Protein; 36g Carbohydrate; 3g Dietary Fiber; 35mg Cholesterol; 1101mg Sodium. Exchanges: 2 Grain (Starch); 1/2 Lean Meat; 1/2 Vegetable; 1/2 Fat; 0 Other Carbohydrates.