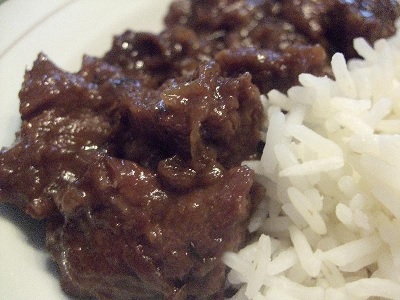 Flemish Beef and Beer Stew
| | | |
| --- | --- | --- |
| Amount | Measure | Ingredient -- Preparation Method |
| -------- | ------------ | -------------------------------- |
| 2 | pounds | chuck roast -- boneless and cut 1 inch thick |
| 4 | slices | bacon pieces -- reduced fat |
| 3 | medium | onions -- sliced |
| 2 | cloves | garlic -- minced |
| 4 | tablespoons | unsalted butter |
| 2 | cups | beer -- Belgian Ale or other ale |
| 3 | tablespoons | all-purpose flour |
| 1 | tablespoon | brown sugar |
| 1 | teaspoon | salt |
| 1/4 | teaspoon | pepper |
| 1 | tablespoon | red wine vinegar |
| 1 | tablespoon | dijon mustard |
| 1/2 | teaspoon | thyme |
| 1 | tablespoon | parsley -- snipped |
Mix the flour, salt, and pepper together and coat the meat.

Heat 2 tablespoons butter over medium heat. Brown the meat in batches and remove from pan.

Add bacon and cook until crisp.

Add remaining butter and add onions. Cook until caramelized.

Return beef to pan and add garlic and one cup of beer. Stir to get up all the brown fond. Cook for four minutes.

Add remaining beer, brown sugar, vinegar, Dijon, and thyme. Cover and cook on medium-low for 1 1/2 hours.

Stir in parsley.

NOTES : Be sure to use a lighter ale and not a heavy beer for this recipe.

Makes 6 Servings.

Per Serving: 481 Calories; 33g Fat (64.5% calories from fat); 27g Protein; 13g Carbohydrate; 1g Dietary Fiber; 111mg Cholesterol; 637mg Sodium. Exchanges: 0 Grain (Starch); 3 1/2 Lean Meat; 1 Vegetable; 4 Fat; 0 Other Carbohydrates.