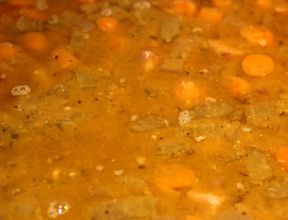 Crockpot Hearty Split Pea with Ham Soup
| | | |
| --- | --- | --- |
| Amount | Measure | Ingredient -- Preparation Method |
| -------- | ------------ | -------------------------------- |
| 16 | ounces | split peas |
| 1 | pound | Yukon Gold potatoes -- diced |
| 1 | cup | celery -- sliced |
| 1 | cup | carrot slices |
| 2 | cloves | garlic -- minced fine |
| 8 | ounces | ham cubes |
| 1 | small | Vidalia onion -- minced |
| 5 | cups | low sodium chicken broth |
| 1 | cup | sweet sherry |
| 1 | teaspoon | seasoned salt |
| 1/2 | teaspoon | seasoned pepper |
| 1 | teaspoon | allspice |
| 1 | teaspoon | dried basil |
| 1 | teaspoon | dried thyme |
| 1 | teaspoon | dried marjoram |
| 1 | tablespoon | low sodium Worcestershire sauce |
Put the peas in the bottom of the crockpot. Add potatoes, carrots, celery, onion, ham, and garlic in that order.

Sprinkle the salt, pepper, allspice, basil, thyme, and marjoram evenly over vegetables. Add Worcestershire sauce.

Pour in the sherry and three cups of the chicken broth. Cover.

Cook on LOW for five hours or cook on HIGH for two hours.

Add remaining two cups of chicken broth and stir to combine.

Cook on LOW for an additional three to five hours or HIGH for an additional one to two hours.

Makes 10 servings.
Per Serving: 306 Calories; 3g Fat (9.6% calories from fat); 22g Protein; 42g Carbohydrate; 13g Dietary Fiber; 13mg Cholesterol; 729mg Sodium. Exchanges: 2 Grain (Starch); 2 Lean Meat; 1/2 Vegetable; 0 Fat; 0 Other Carbohydrates.