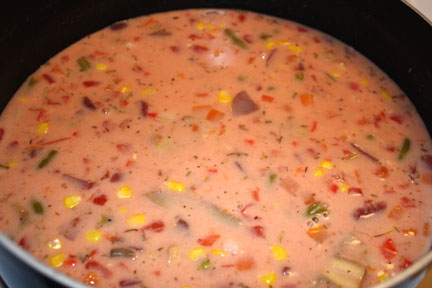 Thick and Hearty Cream of Vegetable Soup
| | | |
| --- | --- | --- |
| Amount | Measure | Ingredient -- Preparation Method |
| -------- | ------------ | -------------------------------- |
| 14 1/2 | ounces | canned potatoes -- drained and diced |
| 8 1/4 | ounces | mixed vegetables -- drained |
| 8 1/4 | ounces | no salt added corn |
| 4 | ounces | mushroom caps -- sliced |
| 14 1/2 | ounces | no salt added diced tomatoes |
| 8 1/4 | ounces | beets -- drained and diced |
| 8 1/2 | ounces | peas and carrots -- canned -- drained and diced |
| 12 | ounces | fat-free evaporated milk |
| 3 | cups | low sodium vegetable broth |
| 1 | small | onion -- diced |
| 1 | clove | garlic -- minced |
| 1 | teaspoon | Italian seasoning |
| 2 | teaspoons | dijon mustard |
| 1/4 | teaspoon | lemon pepper |
Add everything except milk and heat to boiling.

Reduce heat and simmer 15 minutes.

Add milk and warm through.

Makes 10 servings.
Per Serving: 124 Calories; 1g Fat (3.7% calories from fat); 9g Protein; 23g Carbohydrate; 5g Dietary Fiber; 1mg Cholesterol; 441mg Sodium. Exchanges: 1/2 Grain (Starch); 1/2 Lean Meat; 1 Vegetable; 1/2 Non-Fat Milk; 0 Fat; 0 Other Carbohydrates.