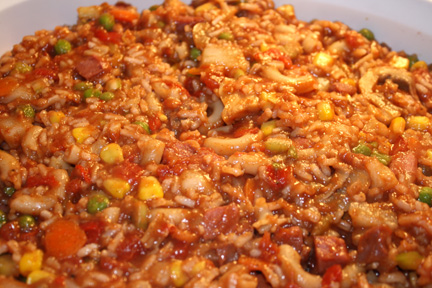 Corned Beef and Vegetables Casserole
| | | |
| --- | --- | --- |
| Amount | Measure | Ingredient -- Preparation Method |
| -------- | ------------ | -------------------------------- |
| 4 | ounces | mushroom caps -- sliced |
| 1 | whole | roasted sweet Red Peppers -- diced |
| 1 | tablespoon | olive oil |
| 1/2 | pound | corned beef brisket -- cooked and diced |
| 1 | small | onion -- minced |
| 1 | clove | garlic -- minced |
| 1/2 | cup | celery -- diced small |
| 1/2 | cup | baby carrots -- sliced thin |
| 3 | small | potatoes -- peeled and diced |
| 1/2 | cup | frozen corn |
| 1/2 | cup | frozen peas |
| 14 1/2 | ounces | no salt added diced tomatoes -- drained |
| 1 | tablespoon | low sodium Worcestershire sauce |
| 1/4 | cup | red wine |
| 8 | ounces | no salt added tomato sauce |
| 1 | teaspoon | seasoned salt |
| 1/4 | teaspoon | seasoned pepper |
| 2 | cups | rice -- cooked |
| 1 | teaspoon | allspice |
| 1 | teaspoon | Dijon mustard |
| 1 | tablespoon | low sodium soy sauce |
Heat oven to 350°F.

Bring water to boil and cook potatoes for 15 minutes. Drain.

Heat oil in large frying pan. Add carrots and celery and cook until softened.

Add peas, corn, and corned beef and cook until vegetables thaw and meat heats through.

Add garlic and onion and cook until fragrant.

Add tomatoes, mushrooms, red pepper, salt, Worcestershire sauce, soy sauce, wine, tomato sauce, pepper, and allspice. Heat until bubbling.

Add rice and potatoes and mix thoroughly. Put into a 2 quart casserole and cover with lid.

Bake for 30 minutes.

Makes 8 servings.
Per Serving : 341 Calories; 7g Fat (17.7% calories from fat); 11g Protein; 58g Carbohydrate; 4g Dietary Fiber; 15mg Cholesterol; 344mg Sodium. Exchanges: 3 Grain (Starch); 1/2 Lean Meat; 1 Vegetable; 1 Fat; 0 Other Carbohydrates.