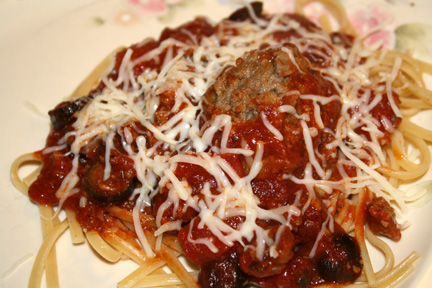 Cold Weather Spaghetti with Meatballs
| | | |
| --- | --- | --- |
| Amount | Measure | Ingredient -- Preparation Method |
| -------- | ------------ | -------------------------------- |
| 8 | ounces | spaghetti -- cooked and drained |
| 1/2 | cup Italian | Six Cheese |
| | | Meatballs |
| 1/2 | pound | Italian sausage |
| 1/2 | pound | extra lean ground beef |
| 1/2 | cup | panko |
| 1/4 | teaspoon | seasoned salt |
| 1/8 | teaspoon | seasoned pepper |
| 1/4 | cup | red wine |
| 1/4 | cup | grated fresh Parmesan cheese |
| 1 | whole | egg |
| | | Sauce |
| 1 | tablespoon | olive oil |
| 1 | medium | shallot -- minced |
| 2 | cloves | garlic -- minced |
| 14 1/2 | ounces | no salt added diced tomatoes with basil & garlic & oregano -- drained |
| 2 1/4 | ounces | black olives sliced |
| 8 | ounces | no salt added tomato sauce |
| 6 | ounces | no salt added tomato paste |
| 1 | tablespoon | low sodium Worcestershire sauce |
| 1 | teaspoon | Dijon mustard |
| 1 | teaspoon | homemade Italian seasoning -- see recipe |
| 1 | teaspoon | balsamic vinegar |
| 1/2 | cup | red wine |
| 1/2 | teaspoon | fennel seeds |
In a large bowl soak panko in red wine.

Add remaining meatball ingredients and mix until incorporated but don't overmix. Shape into balls.

Heat oil in large frying pan and brown the meatballs on all sides. Remove and drain on paper towels.

Add shallot to empty pan and cook until softened about 2 minutes.

Add garlic and cook for 30 seconds.

Add wine and scrape up any brown bits.

Add remaining sauce ingredients for sauce and heat until boiling. Reduce heat to simmer.

Return meatballs to sauce and simmer for about 30 minutes.

Serve over pasta and top with cheese.
Notes: Makes 12 large meatballs.

Makes 8 servings.
Per Serving: 384 Calories; 22g Fat (53.5% calories from fat); 19g Protein; 25g Carbohydrate; 2g Dietary Fiber; 80mg Cholesterol; 561mg Sodium. Exchanges: 1/2 Grain (Starch); 1 1/2 Lean Meat; 1 1/2 Vegetable; 0 Fruit; 2 1/2 Fat; 0 Other Carbohydrates.