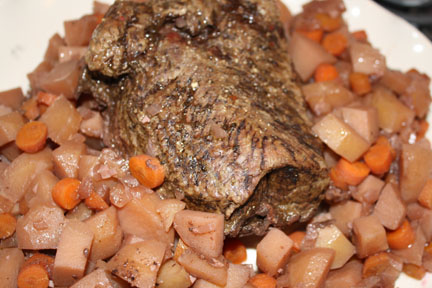 Classic Pot Roast in a Crockpot
| | | |
| --- | --- | --- |
| Amount | Measure | Ingredient -- Preparation Method |
| -------- | ------------ | -------------------------------- |
| 2 | pounds | beef chuck roast -- fat removed |
| 1 1/2 | pounds | Yukon Gold potatoes -- baby halved |
| 6 | ounces | baby carrots |
| 1 | small | sweet onion -- diced |
| 2 | cloves | garlic -- minced fine |
| 2 | cups | burgundy or other red wine |
| 1 | tablespoon | low sodium Worcestershire sauce |
| 1 | tablespoon | no salt added tomato paste |
| 1 | teaspoon | Dijon mustard |
| 1/2 | teaspoon | seasoned salt |
| 1/4 | teaspoon | seasoned pepper |
| 1/4 | teaspoon | ground allspice |
Cut potatoes in half and put in crockpot. Add carrots, onion, and garlic.

Remove large pockets of fat and silver skin from roast. Place on top on vegetables.

Mix wine, tomato paste, Worcestershire sauce, salt, pepper, Dijon, and allspice together and pour over meat.

Cook on LOW 8 to 10 hours or on HIGH 4 to 5 hours.

Makes 6 Servings.

Per Serving: 491 Calories; 24g Fat (49.8% calories from fat); 27g Protein; 27g Carbohydrate; 2g Dietary Fiber; 87mg Cholesterol; 234mg Sodium. Exchanges: 0 Grain (Starch); 3 1/2 Lean Meat; 1 Vegetable; 2 1/2 Fat; 0 Other Carbohydrates.