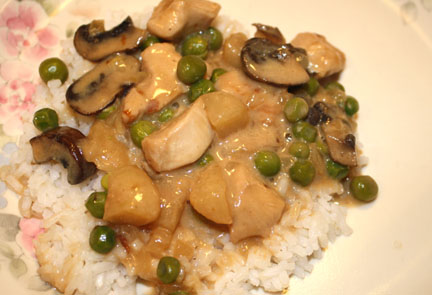 Chicken and Mushrooms Over Rice - Vegetarian
| | | |
| --- | --- | --- |
| Amount | Measure | Ingredient -- Preparation Method |
| -------- | ------------ | -------------------------------- |
| 2 | tablespoons | vegetable oil |
| 1 1/2 | pounds | Morning Star Grillers Chicken -- cubed |
| 8 | ounces | mushrooms -- sliced |
| 1 | small | onion -- diced |
| 2 | cloves | garlic -- minced |
| 1 | teaspoon | ginger root -- minced |
| 1 | cup | peas -- frozen -- thawed |
| 5 | ounces | water chestnuts -- sliced |
| 12 | ounces | fat-free evaporated milk |
| 1/2 | cup | sherry |
| 1 | teaspoon | sesame oil |
| 1 | tablespoon | reduced-sodium soy sauce |
| 1/4 | teaspoon | crushed red pepper |
| 2 | tablespoons | cornstarch |
| 3 | cups | rice -- cooked |
Add oil to large frying pan. Heat to medium-high. Add onion, mushrooms, and chicken and brown on all sides.

Add garlic and ginger root. Cook for 30 seconds.

Reduce heat to medium. Add milk, water chestnuts, peas, sesame oil, red pepper and soy sauce. Heat to boiling stirring to keep from burning and to get all the browned bits on the bottom of the pan.

Mix corn starch with sherry until dissolved. Add to chicken mixture. Heat until it comes back to a boil.

Lower heat and simmer for 30 minutes stirring occasionally.

Serve over rice.

Makes 6 servings.
Per Serving: 663 Calories; 11g Fat (15.7% calories from fat); 29g Protein; 109g Carbohydrate; 12g Dietary Fiber; 2mg Cholesterol; 797mg Sodium. Exchanges: 5 1/2 Grain (Starch); 1 Vegetable; 1/2 Non-Fat Milk; 1 Fat.