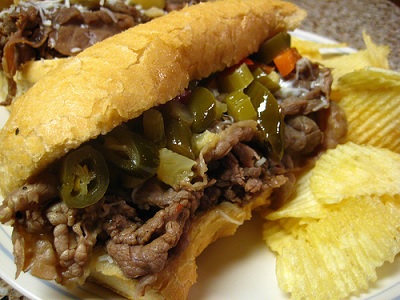 Chicago Italian Beef Sandwich
| | | |
| --- | --- | --- |
| Amount | Measure | Ingredient -- Preparation Method |
| -------- | ------------ | -------------------------------- |
| 3 | pounds | rump roast -- trimmed |
| 1 | tablespoon | Italian seasoning |
| 1 | teaspoon | kosher salt |
| 1/2 | teaspoon | ground black pepper |
| 1 | teaspoon | paprika |
| 1/2 | teaspoon | crushed red pepper flakes |
| 1 | large | onion -- sliced |
| 3 | cloves | garlic -- sliced |
| 1/2 | cup | red wine |
| 1 | cup | low sodium beef broth |
| 2 | whole | bay leaves |
| 2 | large | green peppers -- sliced 1/4-inch thick |
| 1 | cup | giardiniera vegetables |
| 6 | | hoagie rolls or other sturdy rolls |
| 1 | tablespoon | olive oil |
Mix Italian seasoning, salt, pepper, paprika, and crushed red pepper together. Rub over roast.

Place roast in large zip lock bag and add onion, garlic, wine, beef broth, and bay leaves. Marinate meat for 2 to 3 hours.

Heat oven to 350°F.

Place roast in pan on a rack and add marinade to roasting pan. Cook for 3 hours or until instant read thermometer registers 135°F.

Remove roast form pan and let cool. Slice very thin.

Cool marinade and skim off fat.

While beef is resting heat olive oil in a skillet and fry the green peppers.

Dip the meat in the marinade and place on rolls topping with green peppers and giardiniera.

Makes 6 Servings.

Per Serving: 593 Calories; 17g Fat (27.6% calories from fat); 60g Protein; 43g Carbohydrate; 3g Dietary Fiber; 132mg Cholesterol; 966mg Sodium. Exchanges: 2 1/2 Grain (Starch); 7 Lean Meat; 1 Vegetable; 1 Fat.