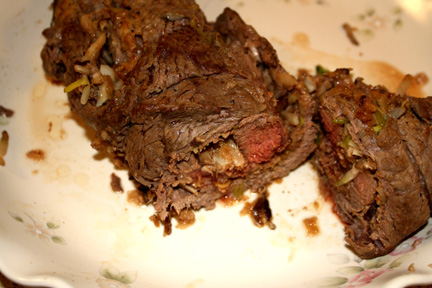 Asian Rolled Stuffed Flank Steak
| | | |
| --- | --- | --- |
| Amount | Measure | Ingredient -- Preparation Method |
| -------- | ------------ | -------------------------------- |
| 2 | pounds | flank steak -- fat removed |
| 2 | tablespoons | unsalted butter |
| 1 | medium | shallot -- minced |
| 1 | large | garlic clove -- minced |
| 1/2 | cup | panko |
| 1 | tablespoon | ginger root -- julienned |
| 4 | ounces | shiitake mushrooms -- julienned |
| 5 | ounces | water chestnuts -- julienned |
| 6 | whole | green onions -- julienned |
| 1 | tablespoon | low sodium soy sauce |
| 1 | teaspoon | seasoned salt |
| 1/4 | teaspoon | seasoned pepper |
| 2 | tablespoons | olive oil |
| 1 | tablespoon | plum sauce |
| 1 | tablespoon | hoisin sauce |
Heat oven to 350°F.

In a small skillet melt butter. Add shallot, garlic, panko, ginger, green onions, and mushrooms. Cook until mushrooms give up their water and panko turns a golden brown. Remove from heat and cool.

Remove fat pockets from the steak.

Remove fat pockets from the steak.

Butterfly the steak by cutting in half starting and short end. You cut through the center and fold meat out like a book. Keep cutting until you are about a 1/2 inch from edge. Fold the meat out and pound to an even thickness of 1/4 to 1/2 inch. Trim to make a rectangle.

Sprinkle the meat with salt and pepper on both sides. Mix soy sauce, hoisin sauce, and plum sauce together. Brush on the inside of the meat. Spread the mushroom mixture leaving 1/2 inch border all around.

With the short end facing roll the meat up into a cylinder. Tie the steak every inch and a half with kitchen twine.

Heat oil in Dutch oven over medium-high. Brown the meat on all sides.

Remove to the oven and cook until it is the way you like it about 20 to 30 minutes for medium rare.

Remove from pan to rack and cover for 5 minutes covered with aluminum foil. Slice and remove strings.

Notes: If you can't find flat steak you can use skirt steak or top sirloin steak instead.

Makes 6 Servings.
Per Serving: 457 Calories; 25g Fat (47.9% calories from fat); 33g Protein; 28g Carbohydrate; 4g Dietary Fiber; 88mg Cholesterol; 511mg Sodium. Exchanges: 1 1/2 Grain (Starch); 4 1/2 Lean Meat; 1/2 Vegetable; 0 Fruit; 2 1/2 Fat; 0 Other Carbohydrates.