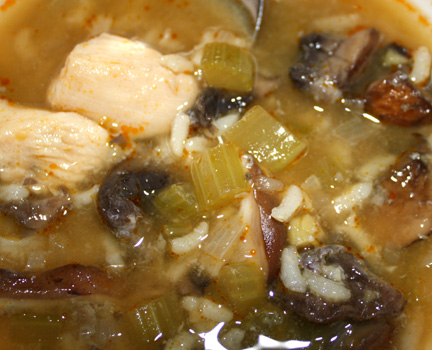 Asian Chicken and Mushroom Soup with Rice
| | | |
| --- | --- | --- |
| Amount | Measure | Ingredient -- Preparation Method |
| -------- | ------------ | -------------------------------- |
| 32 | ounces | Swanson's Thai Ginger Broth |
| 8 | ounces | low sodium chicken broth |
| 1 1/2 | pounds | boneless skinless chicken breast -- diced |
| 2 | tablespoons | sweet sherry |
| 1 | tablespoon | cornstarch |
| 1 | tablespoon | low sodium soy sauce |
| 1 | whole | shallot -- minced |
| 1 | clove | garlic -- minced fine |
| 1 | tablespoon | ginger root -- minced fine |
| 1 | cup | celery -- diced |
| 8 | ounces | mushroom caps -- mixed and sliced |
| 1 | tablespoon | vegetable oil |
| 1 | cup | rice |

Mix sherry, soy sauce, and cornstarch together. Pour over chicken pieces and marinate for 15 minutes.

Heat oil in large saucepan. Add shallots and celery and cook until softened.

Add mushrooms and cook until browned.

Add garlic and ginger and cook until fragrant about 30 seconds.

Add chicken and marinade and cook until browned scraping up browned bits.

Add both of the broths and scrape up browned bits. Heat to boiling.

Add rice and reduce heat and simmer for 30 minutes.

Makes 8 servings.

Per Serving: 362 Calories; 3g Fat (12.3% calories from fat); 24g Protein; 25g Carbohydrate; 1g Dietary Fiber; 49mg Cholesterol; 583mg Sodium. Exchanges: 1 1/2 Grain (Starch); 3 Lean Meat; 1/2 Vegetable; 1/2 Fat.